Lemonade, Legacy and Love: Nainoa's Story
Story Summary
Keiki — the Hawaiian word for "child" or "little one" — is often used when describing the service of Shriners Children's™ Hawaii. Throughout their 100 years of "caring for keiki," Shriners Children's Hawaii has remained committed to providing the highest quality of care regardless of a family's ability to pay. The impact of this treatment is felt not only by the child and family but as ripples across generations.
The Tindle family is one example of Shriners Children's Hawaii's legacy of caring for keiki. Nainoa, the grandson of a patient treated in 1931, grew up seeing his grandmother's scars. They were a reminder of a physical ailment and limitations she had endured as a child — all of which were addressed through the compassionate care provided by the hospital. Chuck, Nainoa's father, remembered seeing his mother's scars as well. "When we were kids, she mentioned it and talked about it, but not into any depth," Chuck said. "[She had the surgery] at about two years old and they couldn't afford it. They were very poor at the time. She had the surgery done at Shriners."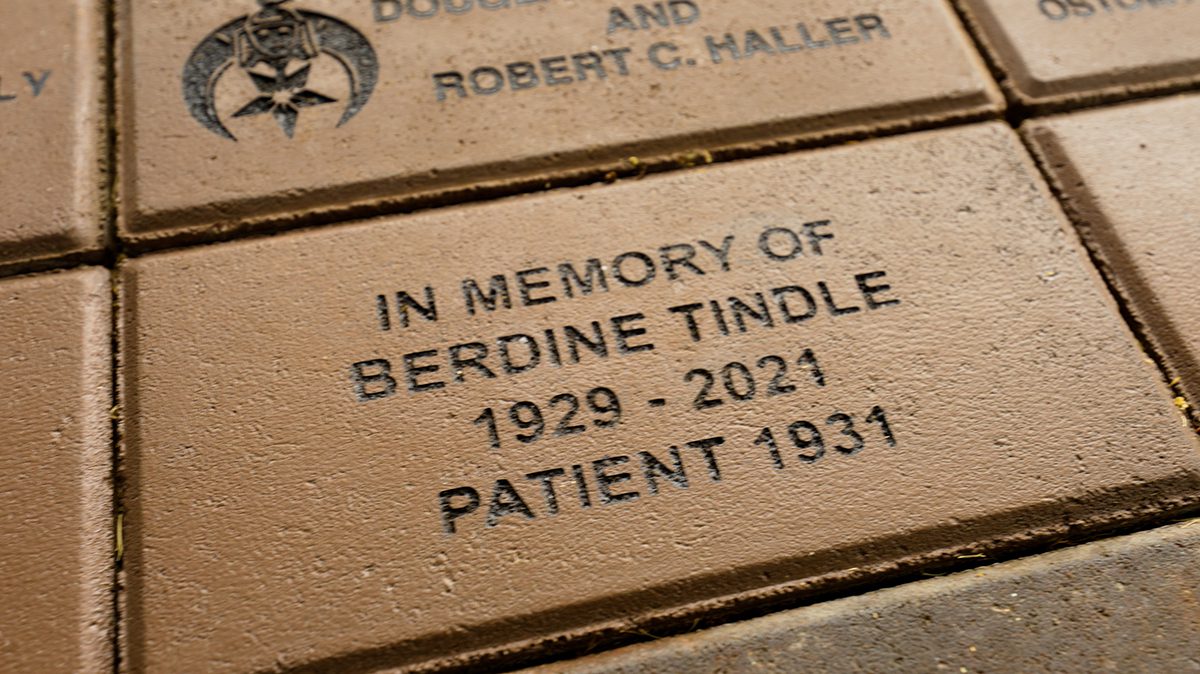 2023 marked the 100th anniversary of Shriners Children's Hawaii. In the years leading up to the centennial, several fundraising events were held to enable continued support for keiki not just in Hawai'i but also in countries and territories within the entire Pacific Basin for the next 100 years. One such opportunity was the Donor Brick Program for which donors could have a commemorative brick engraved with a custom message. These would later be installed in the hospital's porte cochere as a tribute of service and gratitude.
Service and gratitude are values the Tindles hold dear. By age 11, Nainoa had already hosted successful fundraisers for charitable organizations. Upon learning of the Donor Brick Program in the fall of 2021, his thoughts immediately went to his grandmother. She had passed away just weeks prior at the age of 91. Determined to raise $1000 in honor of her memory, Nainoa began planning a Lemonade Stand fundraiser to launch in January 2022. The family lived near a popular hiking trail with heavy foot traffic, providing much-needed visibility. They spread the word through flyers in local shops and social media and wrote letters to their local city councilmen, the mayor, the lieutenant governor, and the governor. Hikers, neighbors, and members of the community came out to support the fundraiser. To the family's surprise, Lieutenant Governor Green (now governor of Hawaii) quietly paid a visit to Nainoa's lemonade stand to lend his support — and some pizzas — to the cause. In addition to the physical lemonade stand, the Tindles also created a peer-to-peer fundraising page through Shriners Children's lovetotherescue.org to host a Virtual Lemonade Stand for family and friends living in other states.
A local news station visited his lemonade stand that February, which the family hoped would help boost sales. They could not have imagined what would happen next. Not only did more people show up at the lemonade stand but donations began pouring in from across the island! "People that we wouldn't have even expected to show up said, 'Oh, I saw you on the news last night!' and they got on and donated," said Lisa, Nainoa's mother.
"The story was very personal with my mother and I think it resonated with a lot of people here locally," said Chuck. "We sold a lot of $20 cups of lemonade." Nainoa saw donations made from old classmates and family friends through his fundraising page. At $935 raised, he was close to reaching his goal.
A stranger moved by the story made a gift of $1,065 to his fundraiser along with a message: "For Nainoa's Grandma's brick!" Her donation brought Nainoa to $2,000 — double his goal! "The cool part of the [fundraising page] was that people could make comments in addition to the donations, so that was pretty special and motivating," said Lisa. "At some point, he shifted and was like, 'Wow, I'm gonna keep going!'.
In total, Nainoa raised over $4,000 for the hospital. Like the brick bearing his grandmother's name, Shriners Children's Hawaii's legacy of "caring for keiki" will stand for generations to come.