RISING STARS — Poppy's Story
Story Summary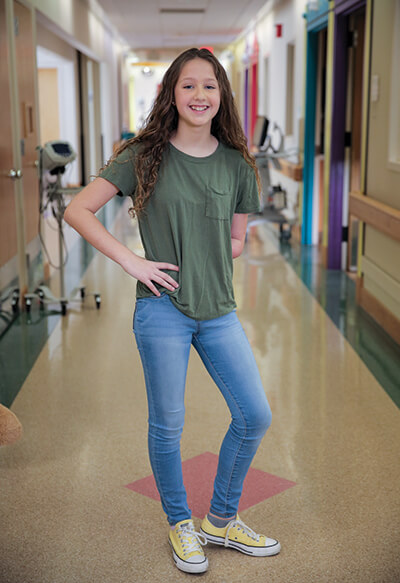 Poppy, 11, of Lincoln, Nebraska, was born missing the lower portion of her left arm. She has a prosthetic arm provided by Shriners Healthcare for Children® — Twin Cities that she uses for a wide variety of activities. Her hobbies range from football, softball and soccer to dance, playing the guitar, acting and creating art.
Poppy does not wear a prosthetic arm all the time, but when she does, she can add attachments for specific activities. She has a flat disk for push-ups or cartwheels and a small pointer for playing the guitar.
The child life team at Shriners Healthcare for Children — Twin Cities provided Poppy and her family with information on a softball camp for kids with limb deficiencies. The camp is organized by the USA Patriots, an amputee softball team put together by Wounded Warriors and made up of veterans who have lost limbs. The annual camp provides kids with limb deficiencies a chance to play softball with adults "who actually get you," according to Poppy.
Rhonda Revelle, head coach for the University of Nebraska Huskers softball team, saw a story about Poppy and was inspired by the girl's positivity and "can do" attitude. So, she invited Poppy to attend a softball practice. Coach Revelle's team was so amazed by Poppy's ability, they invited her to serve as the batgirl for several games.
"It's okay to be different and do the things that you love," Poppy said "If you're a girl and you want to play football, then go ahead and do it. And if you want to do other stuff that people say you can't, just go for it, because anything is possible if you just do it and you try your best."
Former
First Lady Alice — RISING STARS
RISING STARS
To us, all of our patients, and their families, are Rising Stars. Former First Lady Alice Smith is dedicated to helping the patients of Shriners Hospitals for Children live satisfying and productive lives. Her program supports the availability of adaptive and assistive technology that helps them achieve their goals, and become as independent as possible.