Shriners Hospitals for Children races into their 95th anniversary celebration with NASCAR driver David Ragan
Story Summary
Special racecar design to commemorate the hospital system's near century of treating children from around the world.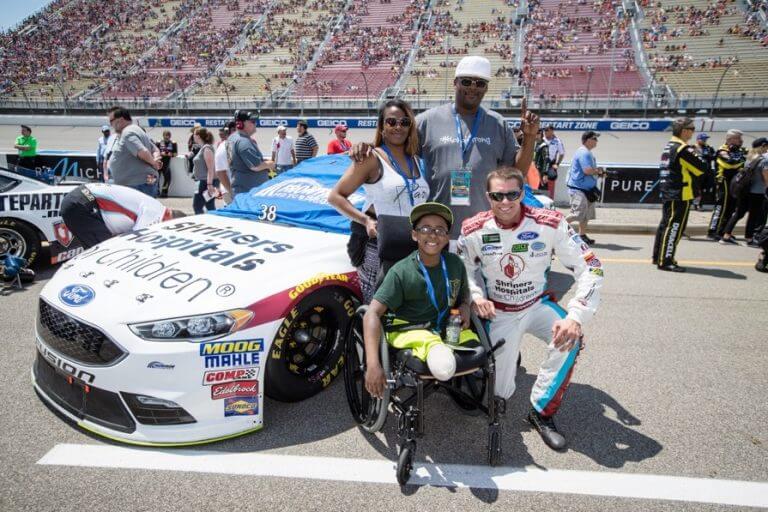 Shriners Hospitals for Children® will celebrate 95 years of caring for kids with a specially-designed racecar in the Coke Zero 400 at Daytona International Speedway this Saturday, July 1, 2017. David Ragan's No. 38 Front Row Motorsports Ford Fusion will feature photos of children treated at Shriners Hospitals and highlight their mission to provide specialty pediatric care, regardless of the families' ability to pay.
Since opening its first location in Shreveport, LA in 1922 to treat children with polio, Shriners Hospitals for Children has become a global leader in the treatment of pediatric orthopaedic conditions, burns, spinal cord injuries, and cleft lip and palate. Founded by Shriners International, the health care system now has 22 locations in North America and conducts outreach clinics around the world. Shriners Hospitals for Children is known for its innovative treatments, world-class research and unparalleled comprehensive care.
.@DavidRagan unveils his new look for the No. 38 at @DISupdates.#LoveToTheRescue @Team_FRM #RaceHub https://t.co/xMpvpfNdZz

— FOX: NASCAR (@NASCARONFOX) June 27, 2017
"As both a Shriner and a father, this is a very special car for me to drive," said Ragan. "It represents the more than 1.3 million kids cared for by Shriners Hospitals for Children. Every child helped by Shriners Hospitals is a testament to the hope, love and quality care that they provide."
During Saturday's race, Ragan will be cheered on by a Shriners Hospitals patient who is reaching his dreams. Sixteen-year-old Riley Desin has had more than a dozen surgeries at Shriners Hospitals for Children — Tampa for hereditary multiple exostoses, a genetic condition that affects his bones. He loves to play basketball and watch NASCAR races any chance he gets.
"Kids like Riley remind us why our mission to provide the best pediatric care possible is so important," said Chris Smith, chairman of the Board of Directors for Shriners Hospitals for Children. "Many routine medical treatments were first pioneered at Shriners Hospitals for Children. With the help of David Ragan and our supporters, we look forward to another 95 years of global pediatric specialty care."