Story Summary
The late Andy Rooney, famous essayist and beloved curmudgeon, once said that "the average dog is a nicer person than the average person."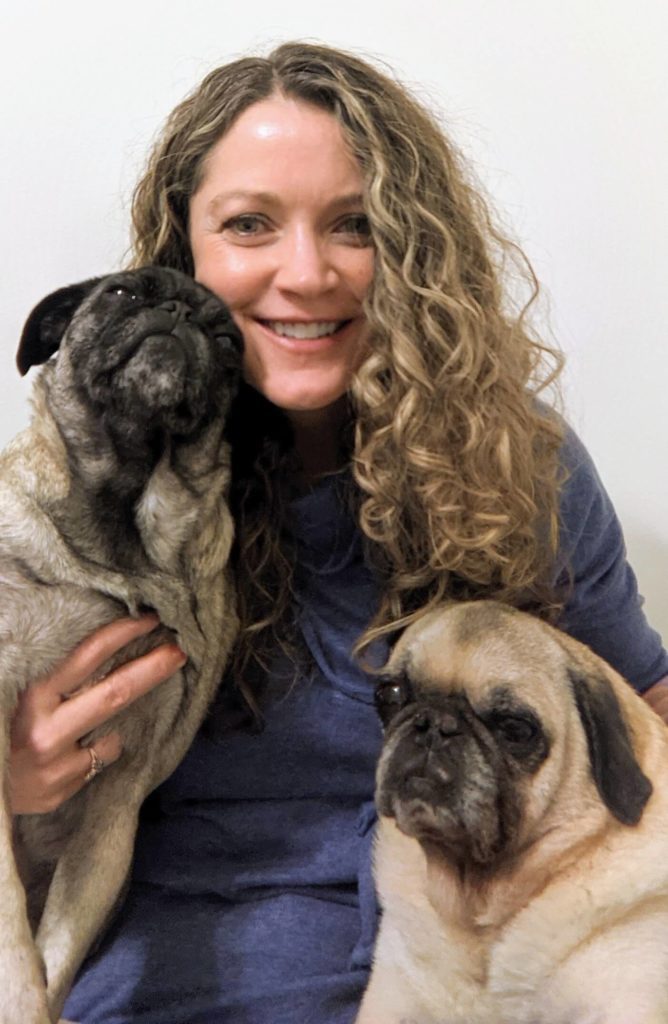 Taryn is not your average person. She's the founder of the Greenville Pug Meetup – a group for pugs, pug owners, and pug lovers boasting more than 700 members across several states. They get together monthly to socialize their dogs, share breed-specific information about their care, and raise money for local pug rescues.
At the height of the pandemic in October 2020, Taryn felt called to do something for the community. The group had pugs. They had people. They had enthusiasm. But what to do?
A member had an idea to hold a Pug Parade at a local children's hospital, suggesting Shriners Children's ™ Greenville as an option. Taryn reached out to them with her pitch – an outdoor Howl-oween gathering of costumed pups and owners parading past the large windows of the hospital's entryway where patients and staff could safely watch from inside. Would they approve? Would the patients enjoy it? Anything was paw-sible.
The representatives from Shriners Children's thought the idea was grrrr-eat! In less than a week the Greenville Pug Meetup gathered volunteers, wrangled their four-legged friends into costumes, and put on a show for the patients and staff. The reception was overwhelmingly paws-itive! They couldn't wait to hold the next one and vowed to make it bigger and better.
In 2021, Taryn sought approval for the parade as an official third-party event to benefit Shriners Children's Greenville, going through the Proud Supporter submission process on lovetotherescue.org and adding a peer-to-peer fundraising page. "It was pretty easy," said Taryn. "We filled out the Proud Supporter event page and shared what we wanted to do." The approval process for a Proud Supporter event takes around 10 days or less. "As far as the fundraising page, I just entered the information and it created the link. Then I just shared it everywhere I could!"
With only a few months to plan and organize, she was able to spread the word across social media and even market sponsorship opportunities to local businesses. "When you share it, not everyone sees it or they might forget about it. So you just have to be persistent," Taryn advises. "Not overly bugging people but say, 'Hey, just a reminder…' It takes a lot of reminders. Like, 'Why don't you share this with your friends and family, or any businesses you know just to get the word out?' And maybe people will donate who wouldn't have otherwise." Taryn's approach evolved as the date drew closer. "I started sharing it more often so that as many people could donate to Shriners Children's as possible."
On December 17, 2021, over 40 Greenville Pug Meetup members and their pugs assembled at the hospital in their most doggone festive attire to spread joy and slobbery pug kisses to the patients and staff. They even used Facebook Live to broadcast the event to their members, friends, and family on social media. Support poured in to their fundraising page which eventually topped out at over $1,200!
After two years of successful events, Taryn and the Greenville Pug Meetup are committed to growing their event and fundraising goal. She's already submitted a Proud Supporter event request for another Christmas-themed Pug Parade on December 9 and will be launching a new peer-to-peer fundraising page for Shriners Children's Greenville. "Happy Howl-idays" indeed!
Shriners Children's invites you to join Taryn and the Greenville Pug Meetup in supporting The Most Amazing Care Anywhere. Visit lovetotherescue.org to learn more about starting a peer-to-peer fundraiser or hosting a Proud Supporter event.
For more information about Shriners Children's™ Greenville and the Greenville Pug Meetup's Pug Parade, please contact Christie Waters at cwaters@shrinenet.org.