Big trucks, big hearts, and BIG goals
Story Summary
Big trucks, big hearts and BIG goals: that's what Daniel "Dan" Linss and Tim Sieben are all about. They're the co-owners of 10-4 Magazine—a publication "For Today's Trucker" providing industry information, truck show coverage and entertainment for owner-operators, company drivers, small fleet owners and trucking enthusiasts. Now in its thirtieth year, the magazine boasts a monthly circulation of 23,000 copies across the U.S., Canada and Japan.
Several years ago, 10-4 Magazine acquired ownership of the annual Truckin' For Kids Show & Drags which features "Show & Shine" competitions, drag racing, vendors and more in a family-friendly environment. With the tagline "Always a Good Time for a GREAT Cause," Truckin' For Kids had long incorporated a charitable aspect to the event. COVID-19 restrictions forced them to pause in 2021. With time to strategize, Dan and Tim set their sights on maximizing the fundraising potential of Truckin' For Kids. That meant establishing their own nonprofit, 10-4 Charities, Inc., and partnering with a national charity whose mission would not only align with theirs but also speak to the heart of the community they served. They immediately looked to Shriners Children's™.
In the spring of 2022, 10-4 Magazine submitted a third-party event request outlining the details of the show. They soon received approval as an official Shriners Children's Proud Supporter which allowed them to market the event as such. Truckin' For Kids returned to Irwindale Speedway in Irwindale, California that September as a single-day event and, to their tremendous delight, raised $40,000—their largest charitable donation to date! The mission of Shriners Children's—to provide personalized specialty care to children with orthopedic conditions, spinal cord injuries, burns, and cleft lip and palate, regardless of their families' ability to pay or insurance status—resonated with the attendees, several of whom were former patients or had family members receiving treatment at one of our touchpoints of care worldwide. Energized, the 10-4 team vowed to double their contribution in 2023.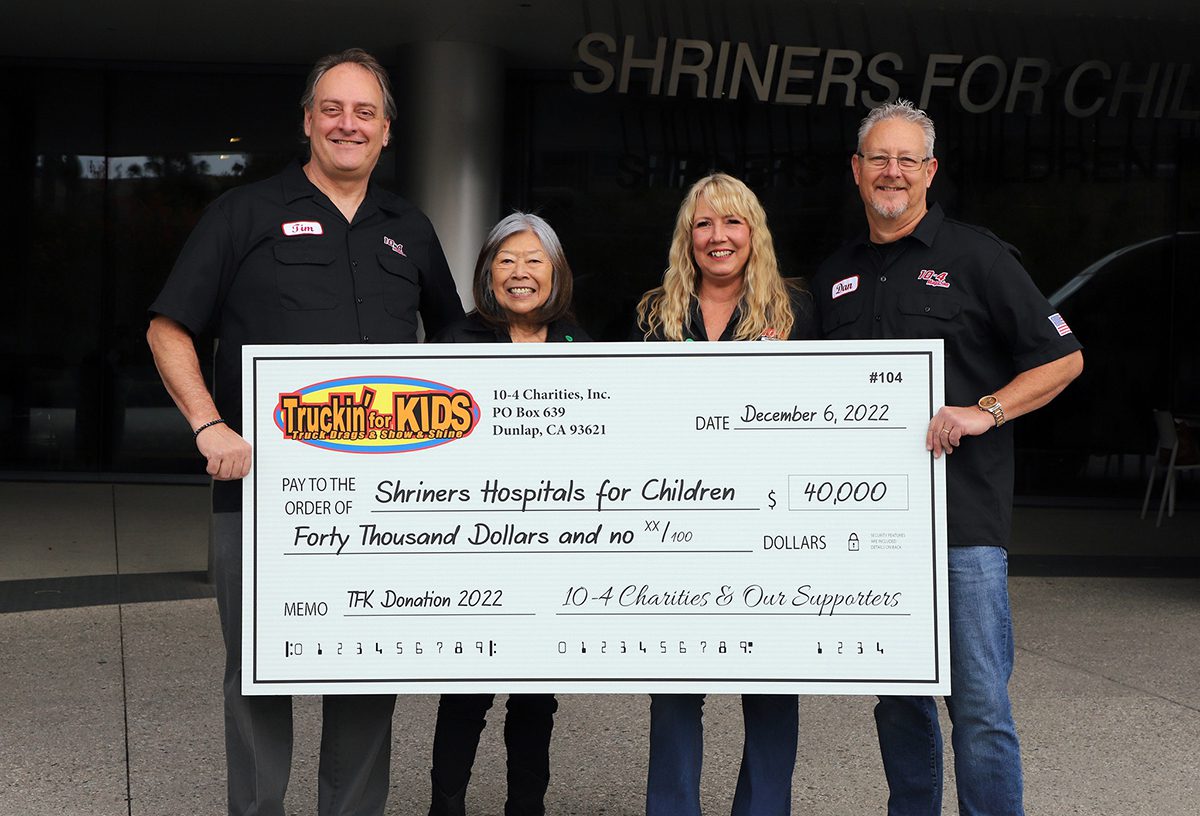 Thanks to the previous year's success, Truckin' For Kids was approved to return to Irwindale Speedway for a full weekend of fun in April 2023. With just seven months to plan, the pressure was on to increase the show's registered truck count, spectator attendance and charitable donation. The 42nd Annual Truckin' For Kids kicked off on Saturday, April 29 with a record-breaking truck count. Rumbling engines and booming bass filled the air as day turned to night, signaling the start of the "Light the Lot" neon light show. Sunday brought increased attendance for the track events which featured Big Rig and Super Truck races, burnout competitions, a jet car and more. Patient Ambassadors from Shriners Children's Southern California along with Shriners from Al Malaikah Shrine were also in attendance to greet spectators and select the winner of the Charity's Choice award. It was an incredible weekend enjoyed by all!
In their June issue, 10-4 Magazine made a BIG announcement: They not only met their goal but exceeded it, raising $90,000 for Shriners Children's! Because of their ongoing commitment to support The Most Amazing Care Anywhere, 10-4 Magazine has been named as an official Corporate Sponsor of Shriners Children's. "We raised a record amount of money this year," said Dan. "From here on out, $100,000 a year is our goal!"