Leave a Legacy of Love
When you begin planning for your philanthropic legacy, you search for a cause that is dear to your heart, where you know you can truly make a difference and where your "ultimate gift" will be maintained and multiplied through sound management practices. Shriners Hospitals for Children® offers a remarkable philanthropic opportunity to provide hope and healing to children, now and in the future. There are many details to be considered with a charitable planned gift, so please consult your attorney and tax advisor before you decide if any method of giving is right for your situation.

To request additional information on planned giving, please click here.
IRA Charitable Rollover
If you are age 70 1/2 or older, you are eligible to make tax-free charitable gifts of up to $100,000 per year directly to a charity from your Individual Retirement Accounts.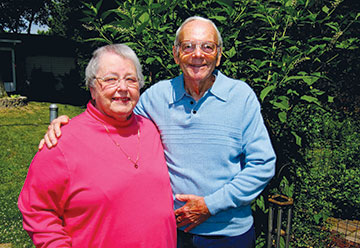 There are few people better qualified to speak about the positive impact that giving to Shriners Hospitals for Children can have on a child's life than Carol. Born in 1934, Carol became a patient of the St. Louis Shriners Hospital when she was 2 years old. Between the ages 2 and 8, she bravely endured 10 surgeries to correct her club feet.
"The hospital helped me lead a good life despite all the challenges," she said. "If not for them, it's unlikely that I'd have met my husband. We met at a ballroom in 1957."
Carol and her husband have included Shriners Hospitals for Children in their charitable giving plan as a gesture of thanks and to help other children receive pediatric specialty care regardless of their families' ability to pay.
Meet our Planned Giving Team
At Shriners Hospitals for Children, we're fortunate to have the support of a loyal group of staff, volunteers, Shriners, and donors who care deeply about renewing hope and improving the lives of children.
As you consider your philanthropic legacy, there's no better way to ensure that the children who need us continue to receive our support by making a planned gift.
For more information on supporting Shriners Hospitals for Children through a planned gift,
please contact the Planned and Major Gift office at 813-367-2241 or by email at plannedgiving@shrinenet.org.

Charitable Gift Annuities With Shriners Hospitals For Children Are Now Available In New York State. 
Planned Giving Inquiry
Fill out the form below and we'll be in touch shortly!