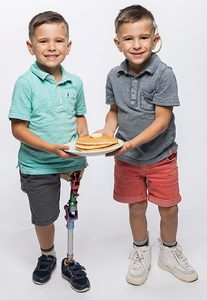 IHOP® HOSTS FIRST-EVER MONTH OF GIVING TO RAISE FUNDS FOR LOCAL CHILDREN.
Throughout the month of February, make a donation in IHOP restaurants, when ordering from ihop.com or online below. Every dollar given to Shriners Children's supports us in our mission to care for every child and family that needs us, regardless of their ability to pay. Then on March 1, head to IHOP for your free Short Stack of Buttermilk Pancakes for National Pancake Day® (dine-in only, 7am-4pm or 10pm in select restaurants).
Pancakes just taste better when they are raising money for a life-changing cause.
Thank you to IHOP and their franchisees for sending Love to the Rescue® on IHOP National Pancake Day!